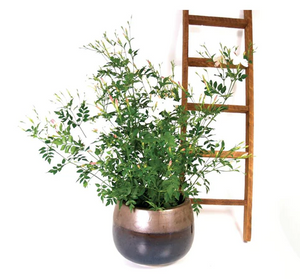 It is known as the King of Essences, having such a widely described smell and animal-like qualities in its growth with an added hardy resilience! 

Pot size: 6" (plastic nursery pot).

Garden Hardiness: 7b - 10.

CARE INSTRUCTIONS

Light: Full sun to partial shade.

Water: Moderately moist soil.

Fertilizer: Use a well-balanced fertilizer during spring and summer. Follow the label.

Pinching/pruning: After flowering, pinch the tips to promote better growth.

Not for consumption.

Protect furniture when watering.
- Comes in a White nursery plastic pot
- Only local pick-up is available from Monday to Friday, 9 am to 4 pm, in Vineland ON Canada