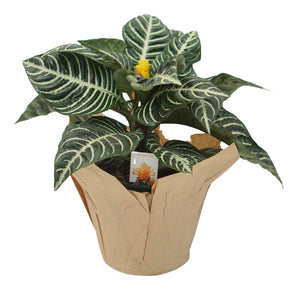 AVAILABLE FOR SALE FROM AUGUST TO SEPTEMBER

A perennial tropical plant, Aphelandra squarrosa does best when it receives plenty of warm, bright, indirect light and high humidity. Dark green leaves with distinctive white stripes will surprise us with showy yellow-bract flowers in summer.
Origin: East of Brazil

Pot size: 6" (plastic nursery pot).
Weeks available: 34 - 40.
CARE INSTRUCTIONS
Light: Bright indirect light to partial shade. Avoid direct sun.
Water: Moderately moist soil. Water frequently, not thoroughly, not allowing to dry out between waterings.
Fertilizer: Well-balanced fertilizer during spring and summer.
Soil: Well drained. 
Not for consumption. It comes in a white plastic pot.
Protect furniture when watering.
Please note:
- Currently, we can only accommodate curbside pickup in Vineland ON Canada (Mon to Fri, 9 am to 4 pm).